SPECIAL ANNOUNCEMENT

Because of changes in the personal circumstances
of several of the members of the group,
after a great deal of thought & deliberation
we decided to make 2010 the last year
for the current line-up, having been together, with only
minor personnel changes, for the last 18 years.
Our two farewell evenings were a huge success
and we would like to thank all those who took
the trouble to come and say goodbye.
Thank you for all your support!!
Our CDs will still be on sale & this site will still run.


EXCITING NEWS
A new group called 'FLASH JACK & company'
has just been formed from some ex-members
of 'Hanging Johnny', plus Rosie Longhurst.
They have now recruited more musicians and
singers to join 'the company'

To contact Flash Jack:
Phone: 01579 351201
Email: flash@englishfolkmusic.com
or go to our site at: www.flash.englishfolkmusic.com


ABOUT HANGING JOHNNY

We were a group of singers based in Plymouth, Devon
& East Cornwall who specialised in presenting Shanties
& Sea Songs from the great age of sail together with
Contemporary Sea Songs, both serious & humorous.
We sung both with instruments & unaccompanied.
We positively encouraged audience participation
& loved to see audiences having a good time.

We performed at Maritime Festivals, Music
& Arts Festivals at home & on the mainland of Europe
& in pubs, clubs & theatres in The West Country
& many other regions of the United Kingdom.

We also represented Great Britain in events such as
the Amsterdam 'Sail' Festival, which was held to mark the
finish of the Tall Ships Race & at the Brest, Paimpol,
Douarnenez & Vegesack Maritime Festivals.

Many other Festivals both at home and abroad also
saw us busking, running pub sing-arounds & workshops.
Some may have heard us singing in BBC TV South West's
series 'Three (Old) Men in a Boat' & various other
broadcasts on both national & European radio & TV.
"Above all we wanted our audiences to enjoy themselves and have FUN!"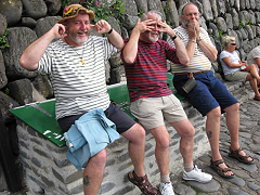 'Hear No Evil, See No Evil, Speak No Evil'
CLOVELLY HERRING FESTIVAL 2008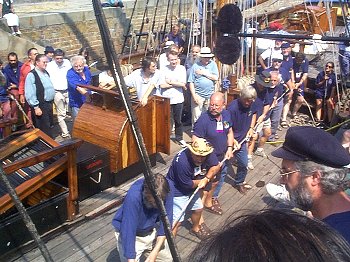 In 2000 we were the proud 'runners-up' in the prestigious
'Stan Hugill Trophy' which is contested by Shanty Crews
from across Europe & further afield.
Competition takes place at various Breton Maritime Festivals
& consists of singing whilst working at the rigging, capstan
or brake windlass, or at the pump as well as in concert.


In May '09 we became the proud winners of the
'Arr Factor' (Shanty Competition) trophy,
competed for at the Brixham Pirate & Shanty Festival